Soak. Exfoliate. Glow
Create your own selfcare ritual. Exfoliate your skin using our gloves & water. Our exfoliating gloves are made from plant-based fabric & have a unique ultra-corase texture for a deep exfoliation experience.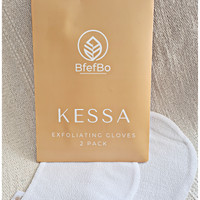 Dry, Dull Skin?
No problem. Our ultra coarse kessa exfoliating gloves are the perfect solution. Soak you skin, exfoliate & see dead skin layers peel off. Rinse & enjoy super soft and silky skin.
Hello glowing skin
"glowing skin diaries"
My skin has never been so soft. I absolutely love the kessa glove. My bath time routine is never complete without it

Sarah
Omg, the dead skin that just peeled off my body. eekssss... but my skin feels so soft, love it

Amanda
these gloves are very coarse, took me some getting use to. but I love them now. I love the deep cleansed skin & the redness is a sign of blood circulation so its a win win.

Rachel